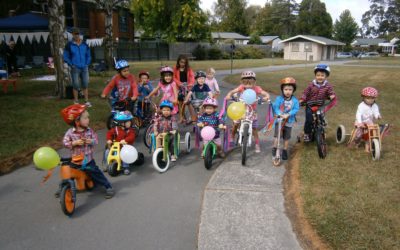 Kid's Party Venues Christchurch
I like to try and come up with new and original places to host my kid's parties. We have had a great little 'bike themed party' at Christchurch's 'hidden treasure' the Westburn Bike Park in Burnside and a 'frozen themed party' at Soyo Frozen Yogurt Cafe in Riccarton. Sometimes places you may not think to host a party will actually work well. 'If you don't ask, you don't get', so there is no harm in asking if it is possible to use a place as a party venue. I've researched lots of great places and I hope this is a helpful resource for you. I would like to keep this article updated so if you know somewhere fabulous that I have missed please let me know.
Parks:
If you can risk the weather being ok parks make fabulous party venues. You will need to choose a park which has toilet facilities and it pays to phone the council to check whether you need to book the area or incase something is planned for the park that day. Christchurch City Council can be contacted on 9418999. Some great Christchurch parks for parties are: Edgar Mactintosh (paddling pool), Westburn Park (bike track), The Groynes, Amberley Park (paddling pool/hall for hire), Ouruhia Domain, Victoria Park, The Gardens. There are so many to choose from and I'm sure you know your favourite local areas. Click on the link to the Christchurch City Council to explore the parks in your area.
Halls and Rooms:
Council facilities, Plunket rooms, Playcentres, Scout halls, Churches etc all have rooms and spaces which they often hire out. When you are out driving keep an eye out for places that might be suitable and give them a ring. Follow these links to some helpful lists to get you started: Christchurch City Council Facilities, Christchurch Playcentres, Venues for hire, Plunket Rooms.
Cafes and Restaurants:
A lovely birthday treat would be to go out with a small group of friends to a cafe or restaurant. Most places will welcome you to bring your own cake if you are purchasing food at their venue. You will need to check this though or you will end up having your cake in the carpark like we did once! You could bring some party hats and small decorations but again you will need to check this is ok. We played 'Pass the Parcel' at Soyo Cafe. It was a great wee space for a little party. You should visit the venue you are thinking of using to have a look at the space and chat with the manager about what would work for your party. The UnderfiveCollective has a great list of kid-friendly cafes and Christchurchmums has another good list. These lists are helpful but sometimes it is the places like Soyo Frozen Yogurt Cafe that you don't always think of that end up being great wee party venues. Remember to always phone the venue to book and check it is suitable for a private party.
Party Venues:
If you would like a party venue which offers party packages and options for catering these three are my recommended Christchurch Party Venues:
Go Potty Ceramic Studio
Located in Cashmere, Go Potty has a fabulous space to host gorgeous kids parties. You can bring your own catering and they have four party packages to suit all budgets and age ranges. At Go Potty Ceramic Studio, Christchurch's paint your own pottery studio, children enjoy the experience of selecting a piece of pottery and painting it to create their very own masterpiece. It is then glazed and fired for you to treasure forever. It's the perfect choice for birthday parties with prices starting from only $18. BYO cake and catering. Phone: 3322361. 68 Hackthorne Road, Cashmere.
Air Force Museum Christchurch

Just turn up and PARTY at the Air Force Museum with a fabulous fully-catered package for $26 per person including an hours 'activities' with your own party host. The Air Force Museum has fun and exciting party options available for pre-schoolers to pre-teens. All the hassle is taken care of when you book a party with them, from the invitations to the games and food (non-catered options also available). Parties are tailored, but flexible, so call to discuss what will work for you. To enquire about or book a party, please contact the Air Force Museum Public Programmes team: Phone: (03) 343 9504.
La Porchetta Mini Chef Parties
Kids love helping cook and La Porchetta Mini Chef Parties are educational and fun. La Porchetta's Mini Chef Parties for children five years and over are a fun way to celebrate your child's birthday. With the help of La Porchetta's instructor, every child learns how to design and prepare their own pizza using a range of fresh produce. Their creations are then popped into the oven and they get to eat and share a meal they cooked themselves! There's also a present from La Porchetta for the birthday child to remind them of what a great chef they are. Papanui: Phone 3522094 and Riccarton: Phone 3487990.
Other venues in Christchurch to host a kid's party:
Mega Air Trampoline(Please note; this is not an advertorial or sponsored post however the three 'featured party venues' are from our fabulous Party Guide.)